PROGRAM | HOTEL | SPONSOR OR EXHIBIT | CE INFO | REGISTER
Be seen at New England Pharmacists Convention 2019!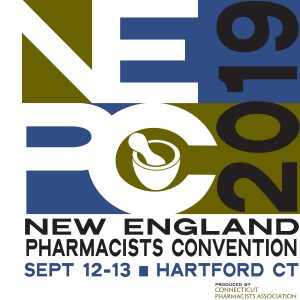 The New England Pharmacists Convention is the largest regional conference in New England serving as a source of continuing education tailored specifically to pharmacy professionals and promoting a climate conducive to excellence in pharmacy practice.
Our annual event is recognized as a premier meeting for pharmacy professionals on the East Coast from all practice settings. Last year hundreds of attendees gathered to learn from experts in the field, to view the latest products and services and to network with colleagues.
We invite you to display your products and services to hundreds of pharmacy professionals and students who attend the meeting by exhibiting on September 12-13 at the Hartford Marriott Downtown.
Exhibits are an integral part of our program and pharmacy professionals have come to rely on exhibitors to answer questions and provide product demonstrations. Don't miss this opportunity to market your products andservices to a large audience of interested participants.


For more information, contact Lisa Capobianco at (860) 563-4619
SPONSORSHIP, EXHIBITION AND MARKETING OPPORTUNITIES
ADDITIONAL EXHIBITOR INFORMATION
SCHEDULE-AT-A-GLANCE (Subject to change based on final program)
Thursday, Sept 12, 2019
             9:00 AM-12:00PM Exhibitor Set Up
             5:30-6:30PM Welcome Reception in Exhibit Hall
             7:00-8:30PM CPA Annual Awards Banquet

Friday, Sept 13, 2019
             7:00-8:00AM    Breakfast in Exhibit Hall
            10:15-11:00AM Morning Break
            12:00-1:30PM  Lunch Break with Dessert in Exhibit Hall
Exhibitor Lunch on Friday will be served in the Exhibit Hall at 11:30 am. A badge is required to claim a lunch. Additional badges are available for purchase.
An Exhibitor Packet will be sent via email detailing shipping, booth information, electrical, and logistical requirements. Please e-mail the names of the representatives who will need badges (before Aug 25, 2019) to lcapobianco@ctpharmacists.org
Exhibit Services
Exhibit Services Provided By

PSAV Technology & Business Center
Hartford Marriott Downtown
200 Columbus Blvd
Hartford CT 06103
(860) 760-2325
aruzzo@psav.com

Cancelation policy: All sales are final.
---
PROGRAM | HOTEL | SPONSOR OR EXHIBIT | CE INFO | REGISTER