RESOURCES FOR PHARMACISTS AND OTHER HEALTHCARE PROFESSIONALS
The Connecticut Pharmacists Association has compiled recommendations from the CDC, FDA, other states, national associations, and other sources to help pharmacists and their staff members practice in a safe and effective manner.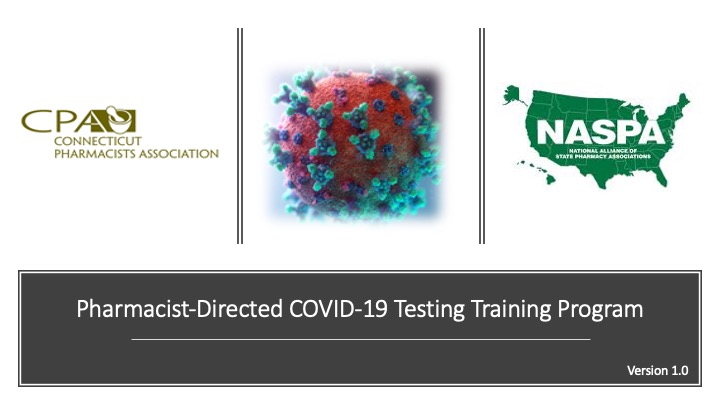 VIDEO HOMESTUDY: Pharmacist-Directed COVID-19 Testing Training Program
---
CMS Vaccine Toolkit: Coverage and Reimbursement of COVID-19 Vaccines, Vaccine Administration, and Cost Sharing under Medicaid, the Children's Health Insurance Program, and Basic Health Program (March 15, 2021)
Authorization for Connecticut Pharmacists to Order and Administer COVID-19 Tests (May 7 2020)
CLIA Waiver: Application for Certification (download the form here)
CTDPH COVID-19 EUA Quality and Safety Survey (download the form here)
Connecticut DCP "Pharmacist Role in COVID-19 Testing FAQ" (May 8, 2020)
CDC: "Ready! Set! TEST!: Patient Testing is Important–Get the Right Results"
Medicare Pharmacies and Other Suppliers May Temporarily Enroll as Independent Clinical Diagnostic Laboratories to Help Address COVID-19 Testing (May 8, 2020)
HHS Guidance: COVID-19 Pandemic Response, Laboratory Data Reporting: CARES Act, Section 18115 (June 4, 2020)
Frequently Asked Questions: Laboratory Data Reporting for COVID-19 Testing
Abbott ID Now COVID-19 Test System Materials
---
Centers for Disease Control and Prevention (CDC)
Centers for Medicare and Medicaid Services (CMS)
Food and Drug Administration (FDA)
US Department of Labor
Occupational Safety and Health Administration (OSHA)
World Health Organization (WHO)
Drug Enforcement Administration (DEA)
US Pharmacopeia (USP)
Infectious Diseases Society of America (IDSA)
APhA CE Series: "15 on COVID-19"
Calls/Webinars presented by CDC for Clinician Outreach and Communication Activity (COCA)
Podcast Series presented by IDSA on COVID-19: What's Happening Now

Recent Soundcloud Podcasts

Johns Hopkins Coronavirus Resource Center
Clinical Information
Personal Protective Equipment (PPE) Information
Pharmacy Benefits Manager (PBM) Changes
National Pharmacy Organizations' COVID-19 Information Pages
---
***Disclaimer: The web page may contain links to other websites or content belonging to or originating from third-parties or links to websites and features and banners or other advertising. Such external links are not investigated or monitored or checked for accuracy, adequacy, validity, reliability, availability or completeness by us. Connecticut Pharmacy Association does not warrant, endorse, guarantee, or assume responsibility for the accuracy or the reliability of any information offered by third-party websites linked through the site or any other website or feature linked in any banner or other advertising.